Twice Nightly
Date/Time
Wed 23rd November - Sat 26th November
7:00 pm - 10:00 pm
Location
Westbury Park Methodist Church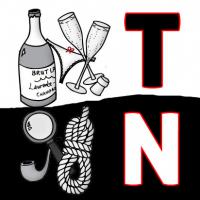 by Paul Kerensa
Two plays, one murder, twice the fun!
---
A country-house murder mystery and a bedroom farce collide on stage…
---
In 'Rosecross Cottage, Daffodil Close, Great Upper Lipton, Hampshire', Stephanie and Martin O'Donnell, each believing the other to be away for the weekend, plan assignations with their respective lovers; the stage is set for your typical, trousers-down, bedroom farce.
Meanwhile, in Dachshund Manor, Lord Dachshund and his manservant Dribbles prepare for the arrival of their ill-assorted evening guests, including a mad German professor, the delightfully inbred Fothergill-Anchovies, and 'Dodgy Bloke'; a mystery at the Manor is in the making.
By scene 6 a curious murder, and the criminally incompetent investigation that follows, leave the two plays reluctantly entwined with hilarious results…