Entertaining Mr Sloane
by Joe Orton
Date/Time
Wed 27th September - Sat 30th September
7:30 pm - 11:00 pm
Location
The Alma Tavern Theatre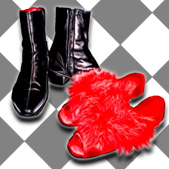 The CADS Alma show 2017 will be Entertaining Mr Sloane by Joe Orton, directed by Paul Richards.
Please buy tickets from the Alma Tavern Theatre website.
50 years after Joe Orton's untimely death, CADS perform the playwright's classic comedy Entertaining Mr Sloane.
Sharp, alarming and hilarious, Entertaining Mr Sloane is a subversive black comedy of unscrupulous sexual manipulation, telling the mischievously provocative story of Mr Sloane, a sly and handsome young man who works his way into the household of Kath, her brother Ed, and their father. The situation soon evolves into an unnerving tale of sex, blackmail, bribery and violence.
"Unlike many scandals, both Entertaining Mr Sloane and its protagonist reach their majority with impact undiminished…Mr Sloane has moved with the times." – Financial Times
"Entertaining Mr Sloane retains its power to provoke and startle." – Telegraph
Clifton Amateur Dramatic Society (CADS) have been entertaining audiences in West Bristol since 2011. Recent successes include the hugely popular productions of "Shakesbeer" Promenade in the streets and parks of Clifton, and a sell-out production of 'Audacity' at the Alma Tavern in 2016.
Please contact secretary@bristolcads.org.uk for more information