Improv for Acting Part II
Date/Time
Fri 27th September
7:30 pm - 10:00 pm
Location
Upstairs @ Lansdown Pub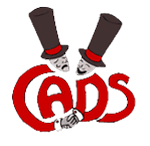 Following on from our popular Improvisation for Actors workshop in April, CADS are very pleased to be able to offer a follow on workshop on Friday 27th September.  Don't worry, you don't have to have attended the first workshop to take part!
It is is free for all paid-up CADS members (sign up here if you haven't yet!) and just £3 for non-members. If you'd like to attend please register for the workshop by filling in the quick Doodle Poll here.
Run by John Gallagher, this Improvisation for Actors class will focus on the commitment of characters using techniques and skills used in improvisational theatre.
In improv we want to be changeable, spontaneous, and bold, so it's no surprise that commitment to character and scene is difficult to hold on to. In this workshop we will learn how to play in the moment by confidently making choices in scenes and being fully aware of our surroundings. We will learn how to keep consistent characters throughout a scene by using specific listening skills and fun exercises. Improv can be a valuable and at times easy skill to learn if we realise that all our inspirations are right in front of us.