Cinderella 2019
Date/Time
Wed 20th November - Sat 23rd November
7:30 pm - 10:00 pm
Location
Newman Hall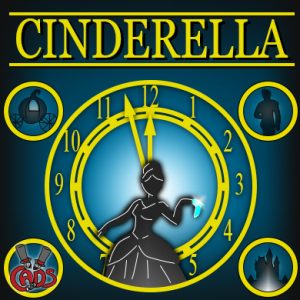 Cinderella is sad. Skivvying in the kitchen for her scheming stepmother and gruesome stepsisters, she dreams of a better life…
Prince Charming is dreaming of avoiding his royal duties and being left to read his comic books in peace…
Will a chance encounter at the market place change their lives forever? Will the evil Lady Malispite succeed in her plans to seize the kingdom? Just what ARE those Ugly Sisters wearing?!
---
Come and join CADS for a fast and furious rendition of your favourite fairy tale, complete with cross-dressing, custard pies, fantastic songs and lots of laughter.
£10 adults, £8 children (anyone aged 2-15 (inclusive)! Under 2s on a parents'/carers' knee are free)
You do not need to bring print outs along, we will have your details on record once you've made your purchase.
When prompted during the purchase, please give us feedback on how you found out about the show – it's really useful to know! Thank you 🙂
---
The venue has a car park at the rear, but also plenty of good public transport options; the postcode is BS9 4DR.
Seating is unreserved so please arrive by 7.15 pm (evening performances) or 1.45 pm for the matinée.
If you have any questions please contact us on chair@bristolcads.org.uk.
Tickets (via Paypal)
Available until 10 am the morning of each performance, then on the door from 7 pm.
Saturday matinée tickets now only available on the door!