CADS Sunday lunch social and AGM 2020
Date/Time
Sun 19th January
12:00 pm - 3:00 pm
Location
Rose of Denmark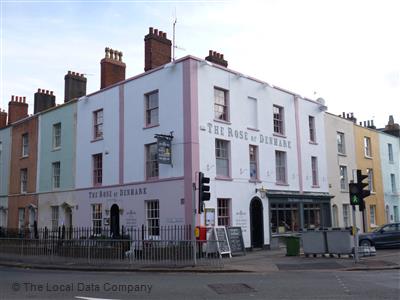 Minutes of the Clifton Amateur Dramatics Society (CADS) AGM 19 January 2020
Attending
Jocelyn Egginton (outgoing Chair)

Tom Brown (outgoing Secretary)

Rory Hubbard

Connor MacMurray

Charles Hutchence

Laettie Ellison

Louise Waller

Pete Stone

Emma Cleeve

Beth Raithby

Simon Holmes

Andy Casey

Henry Arnold
Apologies
Lucy Black

Robert Egginton (proxy vote held by Jocelyn Egginton)
Minutes of the previous AGM
Approved

No matters arising
Presentation of Committee Reports
Chair: Jocelyn Egginton
It's been a good year for CADS, only two shows, but they were good ones and a lot of effort went into both

Lots of funds were put towards socials and workshops

Lots of new members of the society due to large cast successful shows
Secretary: Tom Brown
Social Secretary: Laettie Ellison
Socials went well

Bad Romance was popular again, so will probably continue to do this as a regular feature

Karaoke was very well received, and interest has been shown in repeating the event.

Film viewings at 20th Century Flicks have been very popular, especially the December viewing of Muppet Christmas Carol

As a general rule, socials which were based around the currently running shows were much more popular and better attended. 
Workshop Rep: Jocelyn Egginton (proxy for Ben Barber who moved away from Bristol in September 2019)
The Improv Workshops went well

Space bookings need to be double checked ahead of time as there were several instances of double booking

There should be a better way of confirming who is coming/signed up for workshops as Facebook Events are notoriously unreliable
Publicity: Charles Hutchence
Got a lot of events and other publicity through using Facebook and Instagram paid-for advertising, a good thing to invest in in the future.

Need to integrate Facebook and Instagram profiles with the Website better.

Few people came to see the Panto due to posters and Flyers.
Website: Jocelyn Egginton (proxy for Robert Egginton)
The CADS website probably needs an update

Is functional, but is looking a bit old and tired, and could do with jazzing up a bit with more of a focus on the myriad images which we have collected from past shows.
Accounts: Louise Waller
Overall in 2019 we made money, £518 profit over the course of the year

Intake from shows was £436 from Shakesbeer (half of which went to FOCCAL), and £1032 from Cinderella.

Outgoings included the purchasing of some new lights and a paypal card reader, both of which proved very useful during Cinderella, and will continue to be useful for future shows, a good investment.

C. £500 was spent on workshops and socials.

We spent a lot more this year on hiring rehearsal venues due to our usual free spaces being unavailable.

As of today's date we have £8288 in the bank.

What do we do with all this money? Something for the next committee to discuss.

Accounts had been audited by Nathalie Delaney.

Accounts ratified
Show Reports
Shakesbeer
Was great

Beer was good, organised by FOCCAL

Rehearsing at the library was good, except for one evening where there was a double booking. 

Good size cast, around 20 people

There was a clash with a Park Party on one performance in the park at the same time. Unfortunately it is not really possible to predict such things as these are public spaces which the show is performed in and often such events are not advertised far ahead of time. But something to be aware of. 
Panto – Cinderella
Was great

499 tickets sold

Spent £4203.22

Took £5235.95

So we made more money than we thought we would, which is nice
Henry Arnold arrives
Panto was heavily edited so that it was eventually around 13000 words, meaning the show was around 2 hours in length, including the interval, a good length for a panto.

The smoke alarm did go off during the matinee performance, due to the hazer, but new we know that this was due to the stage doors being open during the performance. 

Assistant director (Laettie) was very useful.

Cast/crew Whatsapp group was very useful

Pre-learning the script worked (for the most part).

Can have more dance numbers and rehearse with dancers earlier and include them in more scenes.

We now have a spreadsheet with rehearsal venues and pricing in the G-drive.

Flyering in Costume at the Clifton Christmas Lights Switch On event got some people along, even though we started late. Could do more of this in 2020.

Need more communications with the bar and venue if possible

Need a technical director.

Radio Mics were great and a definite need for future large shows

Scene backdrop got a lot of great feedback, we should try and get something similar again, something to note for potential future script writers.

Roles of Musical and Band Director needs to be split, too much for one person, James Horsburgh happy to do one or the other in future, preferably Band, but not both.

Not worth selling programs at the event. Could create an online PDF on the website and provide a link at the desk in future. Saves paper and effort but people would still get to read stuff about the show and cast. 

Paypal card reader was awesome

Lots of people auditioned, most people got a speaking part, and a few were happy to be in the chorus, and some others decided not to take part. 

Rehearsal period can be used more effectively. Spend less time on rehearsing scenes and more time on dance/singing rehearsals. 

One audience member commented that the ticket price was incredibly cheap for the quality of the show and would have been very happy to pay more for such a great performance.

Lots of repeat audience from Sleeping Beauty (2017), hopefully there will be more come 2020.

Lots of children at the Matinee, telling people to bring booster seats was a good idea. 
Ratification of membership fees
£15 for the whole year

£10 after September 1st

£10 for just one show, can be topped up later.

Members get access to workshops and socials for free

Emma thinks this is a really good value, compared to a lot of other acting groups

We don't have a major need for more money and need members more than more funds.

Do we keep membership fees at their current rate? – CARRIED
Motions to change the constitution
Election of new Committee members for 2020
Chair
Laettie Ellison stands for election – ELECTED UNANIMOUSLY
Secretary
Emma Cleeve stands for election – ELECTED UNANIMOUSLY
Treasurer
Lucy Black stands for election – ELECTED UNANIMOUSLY
Co-Treasurer
Louise Waller stands for election – ELECTED UNANIMOUSLY
Social Secretary & Publicity Representative
Charles Hutchence stands for election – ELECTED UNANIMOUSLY
Workshop Representative
Henry Arnold stands for election – ELECTED UNANIMOUSLY
Website Representative
Peter Stone stands for election – ELECTED UNANIMOUSLY
Biscuit Representative/Non-portfolio Officer(s)
Beth Raithby stands for election – ELECTED UNANIMOUSLY

Andy Casey stands for election – ELECTED UNANIMOUSLY
Accounts Auditor 2020
Andy Casey stands for election – ELECTED UNANIMOUSLY
CADS membership feedback
Beth, it was great and I loved it

Simon, moved to congratulate the outgoing chair (clap, clap, clap, clap)
AOB
CADS blocks and cups are currently out of access, but Jocelyn Egginton is working on it.
Meeting Adjourned