CADS Proposals Meeting for 2016
Date/Time
Sun 31st January
2:00 pm - 6:00 pm
Location
The Portcullis Pub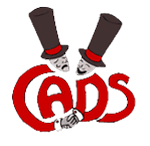 A social Sunday Roast at 2pm, followed by our Proposals Meeting at 4pm.
CADS are looking for proposals for 2016:
Summer (venue will depend on the show)
Autumn (Alma Tavern Theatre)
Want a say in the shows that CADS put on this year? Have something that you want to see performed? Always wanted to try your hand at directing or producing?
Then the CADS Proposals Meeting is for you!
All members are encouraged to attend (or if you're not a member you can turn up and join on the day!), and all attending members get to vote on the proposals. This is your opportunity to have a say in what we will be performing this year!
---
Here at CADS we try too keep the proposals process as accessible and stress-free as possible. There is a short form to fill in that must be sent to the Secretary at least 7 days before the meeting (i.e. by the 24th January), and you will be asked to defend your proposal on the day (generally about 10 minutes). If the proposal involves new writing then you must include a copy of the full script with your proposal. All the proposals will be made available to all members 7 days before the proposals meeting.
For more details on how to propose, and to get a copy of the proposals form, see our How to propose a CADS show page, and remember that you can join the society on the day.