PantoWars! 2015
Date/Time
Sat 12th December
6:00 pm - 11:00 pm
Location
Redland Park United Reformed Church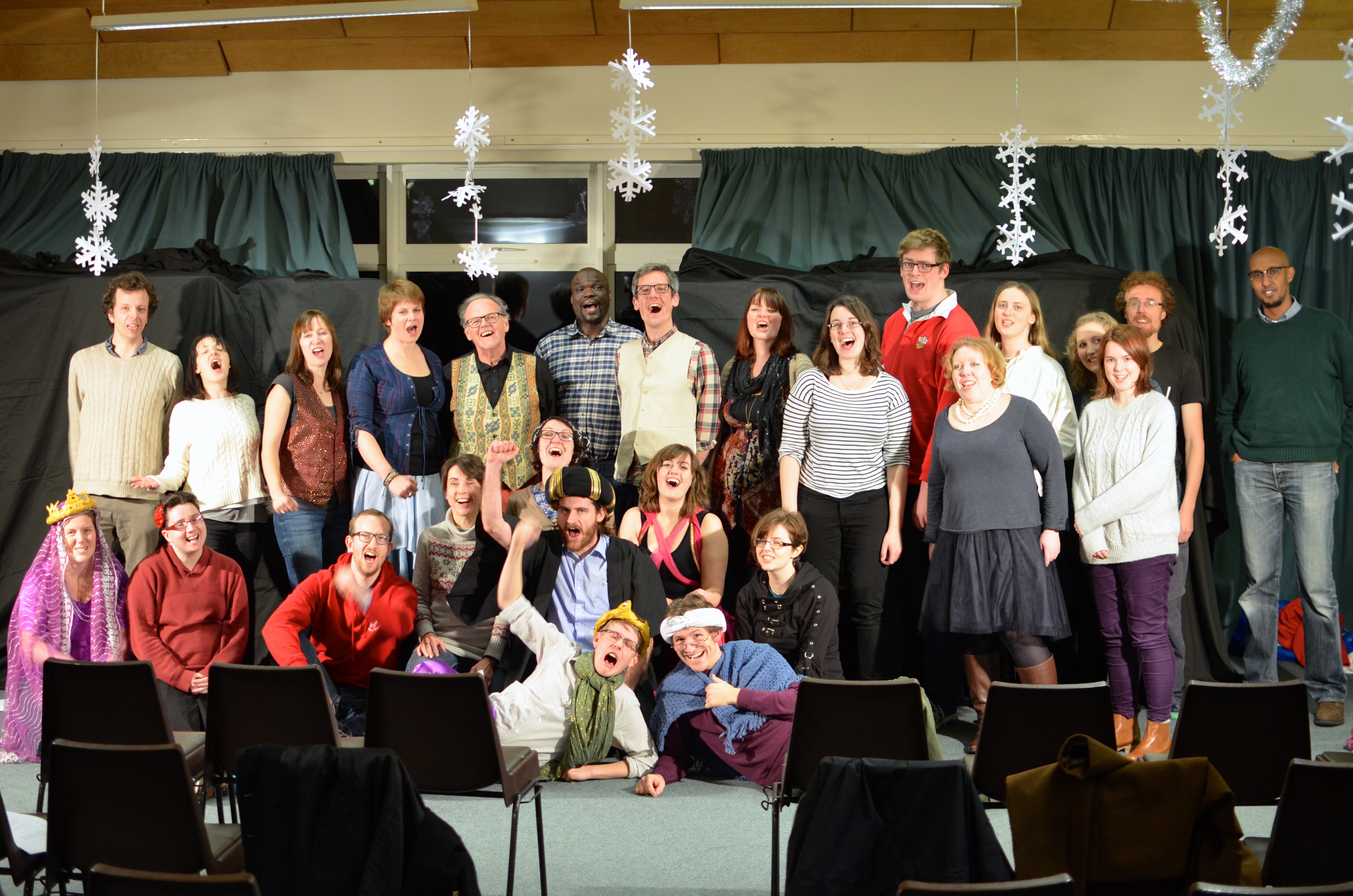 PantoWars! Saturday 12th December 2015.
Buy tickets here, any problems please email chair@bristolcads.org.uk:

Clifton Amateur Dramatics Society
provocatively presents the social sensation of seasonal silliness that is
Panto
Wars
2015: Beauty and the Beast.
This year CADS gives the Pantomime treatment to the classic French fairy tale "Beauty and the Beast". A stirring tale or magical enchantments and romance with more than the usual level of mad characters, outrageous plot twists and innuendo plus, for reasons that never become clear, rather a lot of jam.
Will the beloved heroine fall for her beastly beau? Will the professor ever perfect his hedgehog cannon? What is the rumour about Sir Finn U. Essay, Theresa May and the Canoe? Why are the Durdham Down Druids obsessed with the all-powerful DAVE?
All will be revealed* on the 12th of December.
* Especially by the Baron… poor man. Will someone please pass him some trousers?
Tickets £10
includes fish'n'chips
and
BYOB
It's an hour-long Pantomime script, split into 6 sections. Teams of 6 – 8 people take a section each, go away to assorted corners of the building and rehearse for about an hour, then everyone comes back and the
Panto
is performed – with the actors changing around every 10 minutes… sometimes mid scene! It's aimed to be very silly and lots of fun.
Do you have to learn the lines?
Gosh no! Scripts will be in hand for the performance.
When is it?
Saturday the 12th December 2015. Please arrive for 7pm, we'll start on supper at 7.30 pm.
Where is it?
The Redland Park United Reform Church on Whiteladies Road. We'll be performing in the upstairs room, with signs/people directing you from the main entrance… mostly likely follow the giggles…
Is there parking?
There's no car park at the venue, but parking is available on the streets around. This will be a Saturday night near to Christmas though, so it may be worth arriving early if you have a car so you have time to find a spot.
How much are tickets?
The evening costs £10, which includes a fish and chip supper (vegetarian alternative available). To get your supper and be guaranteed a part you MUST book tickets using the buttons above. This is via PayPal, with no booking fee, so a straight tenner. The deadline for advanced bookings is midnight on Friday the 4th of December.
What if the deadline's passed and I still want to come?
After the deadline for advanced bookings you'll still be able to join the festivities if you arrive before 7pm and pay £5 on the door, but it won't include the supper (but feel free to bring your own).
However we tailor the script for numbers of characters to suit the advanced booking numbers… so I'm afraid we can't guarantee parts for those who don't pre book! We really do recommend getting tickets in advance on this one!
What about drinks?
We won't be running a bar so please bring your own booze and/or soft drinks. Supermarkets very close if you forget.
Do you have to be a CADS member?
No, non-members are very welcome; this is a social not a performance as such. But maybe we can entice you to join up next year…?
It sounds like a lot of fun, but I haven't acted since university/GCSEs/the nativity play in year 6, and I'm a bit nervous…
This is the perfect opportunity to have a go at 'treading the boards' with something fun and light-hearted, and get you back into it. Suitable for old hacks or complete beginners, no previous acting experience is required.
No, I really don't want to act, but I'd love to come and watch – is that ok?
Of course it is! When booking your tickets, just drop an email to let us know via 
secretary@bristolcads.org.uk
 and we won't allocate you to a team. Your audience support will be greatly appreciated though!
Is it family friendly?
Largely so, but as it's aimed at a more adult audience the show has a few more adult themes than your usual pantomime fare. Nothing worse than a particularly naughty Carry On movie really.
Isn't it some sort of competition?
Well, our first Christmas social in 2012 was. At 
"Play

Wars

2012"
 we had teams competing with different sketches. Since then we've revised the format and "
PantoWars

2013-present"
 is basically just for fun. We may still give a prize to be won by the 'best team', and with some 
ad hoc
 awards thrown in for good measure. But it's meant to add to the fun, not be stressful!
So don't forget to book your tickets in advance and we looking forward to seeing you there!
Panto
Wars
2015 Team xxxx