Auditions for Entertaining Mr Sloane
Date/Time
Tue 27th June - Thu 29th June
7:00 pm - 10:00 pm
Location
The Nova Scotia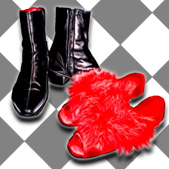 In the 50th anniversary year of the death of landmark British playwright, Joe Orton, CADS presents Entertaining Mr Sloane. Auditions will be held from 7 pm on Tuesday 27th and Thursday 29th June (NOT Wed 28th), at the Nova Scotia in Hotwells.
A dark comedy with all the complex sexual politics you'd expect from a 60's play, Entertaining Mr Sloane is a witty and complex play with parts you can really sink your teeth into.
'Mr Sloane is a young man looking for a place to board, who happens by the home of Kath, a middle-aged landlady whose home is on the outskirts of a rubbish dump. Kath is eager to have Mr Sloane as a tenant at her home, which she shares with her nearly blind father, Kemp. In getting to know Mr Sloane, Kath is open with Mr Sloane about a previous relationship she had, which led to her bearing a child, whom her brother insisted on her giving up for adoption as it was conceived out of wedlock. Mr Sloane reveals he is himself an orphan, though vague about his parents' death, except that they "passed away together"….'
Please email publicity@bristolcads.org.uk for more info or to book in for an audition.
The show will be performed at the Alma Tavern Theatre in September.